Overview
DISPLAY
Accepted File Formats: JPG, GIF & PNG
Max File Size:

Background Skin: 1900×1600, 300k or less

See Background Skin Requirements tab for detailed specs.

Pencil Ads: 100k or less

See Pencil Ad Requirements tab for detailed specs.

320×50: 50k or less
All other banners: 100k or less
VIDEO
Accepted Streaming Video Ad Delivery Formats: Aspect Ratios: 16:9 & 4:3 (4:3 to get black curtains to fit 16:9)
File-Based Media (16:9 & 4:3): QuickTime MOV, MPEG-4, MP4, AVI

All files must contain a soundtrack, even if the ad is to run without sound.

Volume Levels: Mean volume < 24db LKFS with an acceptable range of +/- 2DB (26db or -22db it will still pass and is acceptable)
Frame Rate: 29.97
File Names: No Spaces (only _ or – )
Finished Files: No Slates
General Ad Specifications
To allow for proper approval and testing, TPP submission deadlines are as follows:

Pencil Ad: Total 14 business days
Global Background Skin: Total 13 business days
Banner: Total 12 business days (already DFP served)
Banner: Total 18 business days (new/custom request)
Pre-Roll Video: Total 13 business days

Third Party Ad Tags & Vendors:

We will continue to accept 3rd party ad tags, provided they are submitted with proper macro placement instructions and/or are from a DFP-Certified Vendor.
For a list of DFP Certified Vendors, please reference:

https://support.google.com/

dfp_premium

/answer/177366

Audio Policy – No host-initiated audio is permitted on NBA.com or NBA Team Sites. Audio must be user-initiated by clicking within the banner and contain a clearly visible "Mute" and "Stop' function.
Pencil Ad Requirements
File Size: 100k or less
Accepted File Formats: JPG & GIF
All eight creative sizes must be provided:
Desktop Width: 1150×50 and 1150×440
Large Tablet: 950×40 and 950×360
Small Tablet: 730×30 and 730×280
Mobile: 300/320×50 and 300/320×100
Special Instructions:
The open and close text is located in the top right 80×50 pixels for all banners. This area:

Must be the same color on all eight creatives.
Must not contain any lettering, buttons, multi-color background, or pictures.

Note: The red boxes are only a visual guide of the top right 80×50 pixels. The creative does

not

need to be red in this area.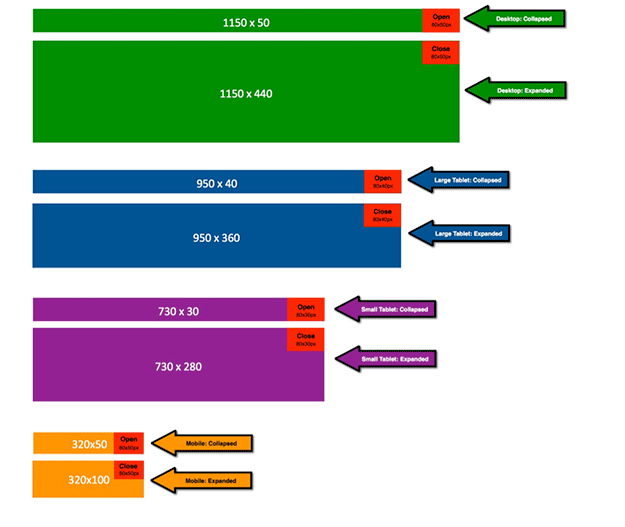 Background Skin Requirements
File Size: 300k or less
Accepted File Formats: JPG
Creative Size: 1900×1600
Special Instructions:
Dead Zones (red areas of the below screenshot):

Top NBA Chrome Bar: The background image starts at the top of the browser window and sits behind the NBA chrome bar. Background creative should account for the top 35px not being visible due to the NBA Chrome overlap.
Content Region: The content region that runs down the middle of the page (including the header/navigation) is 1170px wide.
Sponsor/Partner/Creative Zones (green text on left/right margin of background):

Approximately 150px to the left and right of the middle 1170px content region can be used for sponsor/partner/creative elements within the trafficked background (NOTE: This visible region, aka "wings", varies based on the device being viewed on and the width of the browser window).